Circa 1876
Dine under the whimsical luxury of classical chandeliers in the grounds of our Hatted Restaurant and one of Australia's most picturesque hinterlands.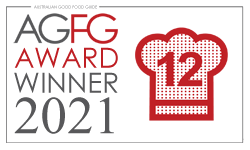 A short stroll down the tree-lined driveway is Circa 1876, the Hunter Valley's most iconic restaurant, located in an historic cottage on the picturesque grounds of Roscrea Estate. Circa 1876 showcases some great Hunter Valley wines in an award-winning wine list. Or you can experience the eclectic charm of the Champagne Lounge, with its open fire.
Circa 1876 quite literally brings the 'farm to fork' ethos to life as guests overlook the organic kitchen garden that their food came from just beyond their plate. The delicate fresh quail eggs are also gathered from our onsite Japanese quails.
Reservations are recommended. You can book online or reservations will be happy to arrange it for you.
Please note: A Credit Card guarantee will be required for all bookings. Please advise us of any special dietary requirements when you book or by contacting us on This email address is being protected from spambots. You need JavaScript enabled to view it.

Restaurant and Functions Enquiry;
Email: This email address is being protected from spambots. You need JavaScript enabled to view it.
Terms and Conditions:
A set price for 3 course minimum applies per person applies to all Lunch and Dinner bookings, excludes Special Events.
Booking of 5 and under: A 48-hours cancellation policy applies to your booking. Any cancellation within 48 hours will attract the Cancellation Charges of $115 per person.
Please note :A Credit Card guarantee will be required for all bookings. Please advise us of any special dietary requirements when you book or by contacting us on This email address is being protected from spambots. You need JavaScript enabled to view it..
Group bookings: Group bookings: For bookings of 6 or more people we will require a non-refundable deposit of 30% of the expected bill total. This will be processed on the credit card supplied at the time of booking. The initial non-refundable deposit is forfeit for cancellations at any time up to and including 7 days prior to your reservation. Any cancellation within 7 days, will attract the full Cancellation Charge of $115 per person.
All changes and/or cancellation to bookings need to be communicated in writing. Cancellation charges: If you cancel for any reason inside the cancellation time, or do not arrive on your specified booking date then a full cancellation penalty of $115 per person will apply. 
Special events: Full prepayment is required for all Special Events (for example: Christmas Day, New Year's Eve, Valentine's Day, Yulefest, Long Weekends and Ticketed events) . These bookings are non-cancellable and non-refundable. Please refer to your event ticket, invoice or confirmation letter for further details. 
Please note we do not accept Entertainment Cards at Circa 1876.